The Beginning of a Build – 1989 Honda VTR250 Interceptor
I'm normally hesitant to release early stage pics of "work in progress" project bikes, but after this weekend's awesome testing trip to Summit Point Raceway in West Virginia I just had to share:
Rolling into the pit at the Shenandoah Circuit for the Motorcycle Xcitement track day and unloading this old girl, I drew more than a few "What the fuck?" type stares.   Not only is the VTR250 a rather rare bike, but surrounded by fully prepped race machines sitting up on spools with their tire warmers humming, it looked comically out of place.
Tech inspection was equally hilarious.  The inspector told me "That is literally the rustiest chain I've ever seen.  Looks well lubed and properly adjusted though!"  Yeah, I know buddy.  For being a dirty little rat, it actually runs and rides quite well… but I had reached the limits of what testing on the street could tell me about how to optimize the setup.
I'm just not comfortable pushing an unknown bike too hard with the possibility of deer or dump trucks lurking behind every bend in the road.  But on the track, I can do it all day long!  The goal (in addition to improving my own skills as a rider) was to figure out where the bike was weak and needed performance attention.
The Shenandoah Circuit is a tight and technical track, which includes nasty jogging pace hairpins, a downhill corkscrew a la Leguna Seca into the back straight, and an exact replica of the banked Carousel turn from the Nürburgring:
This little VTR is intended to be a country road killer, so I just had to push it hard to find out what needed attention.  I haven't done much yet other than get it running and strip it down, but as you can see, there was a lot that needed stripping: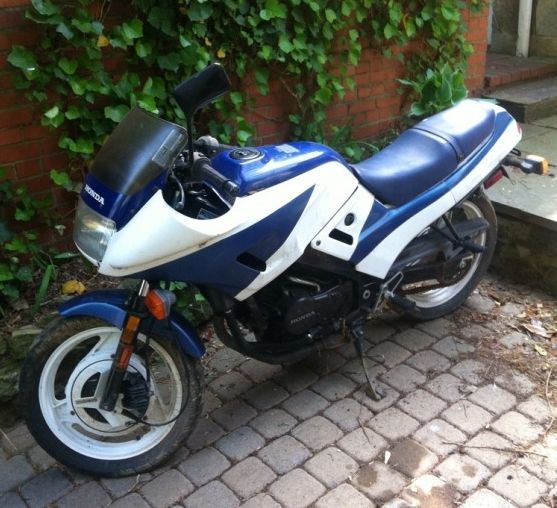 The heinous body work was either binned on is in the process of being sold on ebay, and the bike is starting to take shape in my head.
I found it was stable all over the track, particularly the sorts of fast sweeping turns where bigger bikes like to wallow and flex frighteningly.  It turned in effortlessly, and the suspension was sufficiently stiff with good damping.  The weak point was definitely the front end.  My efforts will be focused on getting more weight over the front wheel, getting more bite out of the front brake, and getting stickier rubber to take advantage of it all.  It may be necessary to ditch the awesome steampunk looking stock wheel in favor of something more conventional, but either way, it's going to be a great little bike.
Check back soon for more progress!