83 Honda VF750 Sabre – "Fashionably Late."
The story of this bike is all about frustration.
Busted knuckles, missing parts, expensive shit that didn't fit, and buyers that didn't come through.
The buyer part is maybe the simplest to explain – JT put down a deposit, chose the donor bike, and set us running on the build, but the week before it was done, he went and threw out his back.  No more riding in his future, and thus, no more room for this ride.
We all go down the road knowing that, in the blink of an eye, we might find ourselves at the end of our motorcycling careers.  I hope my body holds up at least as long as long as my urge to twist a throttle, but not all of us are that lucky.  Sorry, man.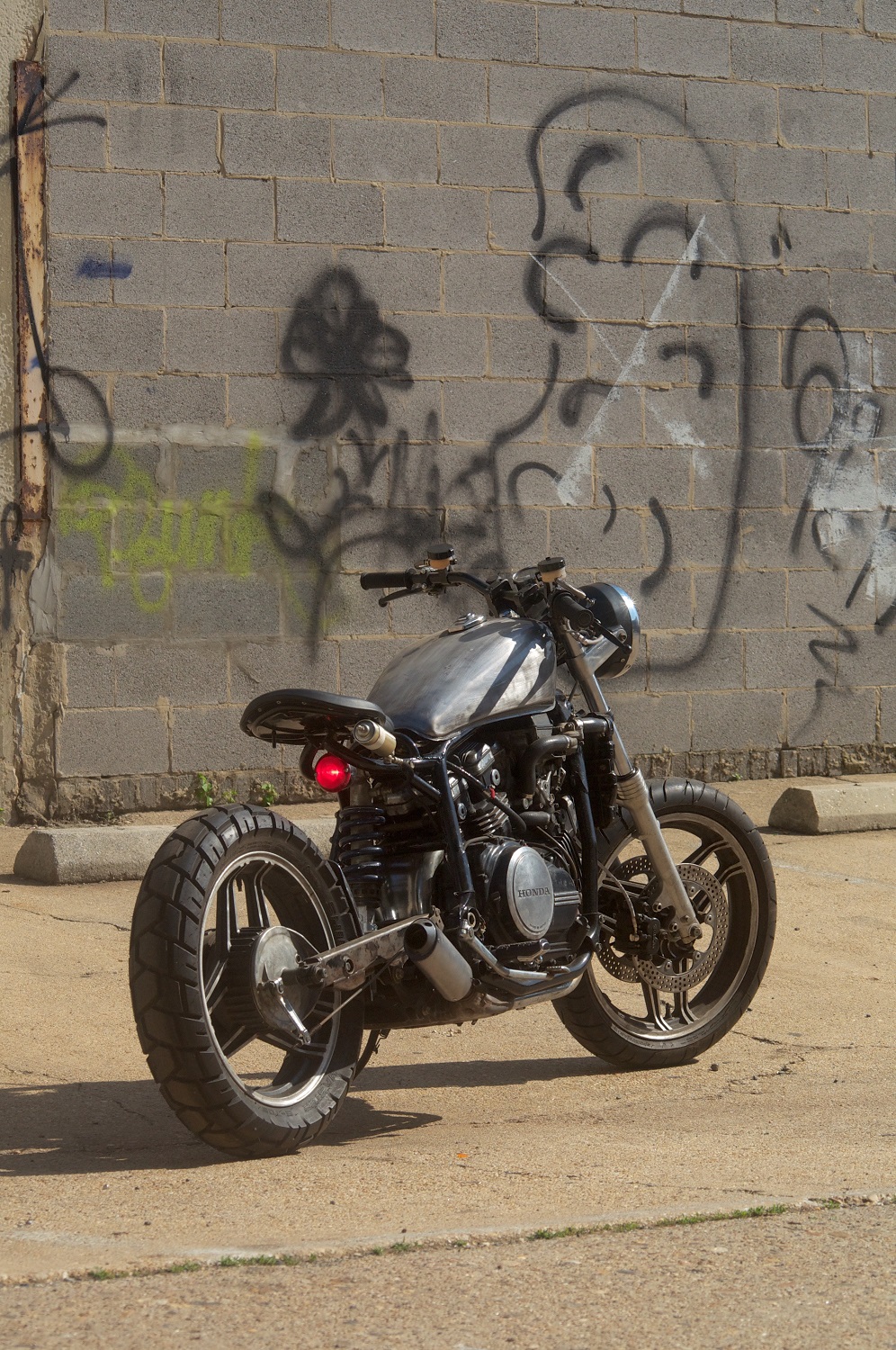 To his credit, JT offered to settle up with me and sell the bike himself, but instead, we've agreed to split whatever comes in above the $5000 he owed.  That way, I get made whole and he gets some of his deposit back.  For the right price, the bike can be finished however you like, provided you're basic taste doesn't stray too far from core idea of the build, namely: a bobber, a scrambler, a cafe racer and a sewer rat making filthy love under a bridge somewhere on the wrong side of town.  If you aren't into that kind of party, you might as well not come around the shop at all…
As for the bike, well, let's start at the beginning with the 1983 Honda Sabre – a fundamentally ill conceived and overly complicated motorcycle with one redeeming characteristic: the powerful and silky smooth 750cc V4 engine.  This basic engine is shared between the Magna, a much loved muscle cruiser, and the Interceptor, Honda's World Superbike winning sports machine.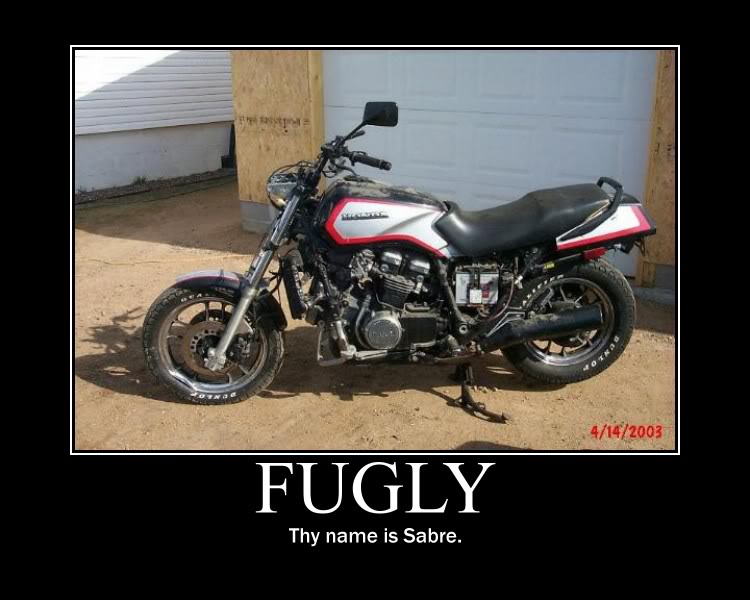 Our first goal was to throw half of the motorcycle in the nearest dumpster, and then to make sure  that the motor was healthy.  With the engine on the bench, we performed a leakdown test and inspected the head to make sure we didn't have any of the "excessive cam wear" issues that appeared on some of the early V4.  Luckily the journals were nice and smooth and all four cylinders showed great compression.  We went ahead and adjusted the valves and installed an aftermarket system that supplies high pressure oil directly from the filter to the heads, so with any luck, this motor will outlive us all.  We also rebuilt the clutch slave cylinder and replaced a few gaskets and seals that were giving us funny looks.  The carbs also got a full rebuild, and we opened up the intake just a bit with a UNI foam filter.
At this point, with the motor sitting there on the bench looking handsome and eager, things start to go sideways.
This bike was getting the full treatment, including a fairly radical frame chop, and in order to get everything lined up correctly, we needed to have the actual suspension components we were going to use in hand.  Now it turns out there is exactly one guy who specializes in making high end custom suspension components for the Honda Sabre, and while he is very friendly and the final product is awesome, he does take approximately 6 months to deliver.  I of course don't know this at the time, and we're naively planning to have the bike done within 6 months.  So I'm calling about every 3 days, probably driving this poor guy totally insane, until finally we get the message: you probably won't see this stuff till fall.
Ish.
So the build comes to a stop.  Except for spooning on some new tires and making a whole bunch of late night ebay purchases for exotic components, half of which won't fit and can't be used (I'm looking at you, Ducati tailpipes), the bike just sits until we get the rear shock and fork parts in the mail.  And of course by this time the season is practically over, and we would be rushing like crazy just to have the bike ready just to be parked in a garage for 4 months.
So we beg a bit more time, fire up the diesel heater, and we get down to it over the long cold winter.  The forks are off a year newer Honda, which provided a slightly shorter front end without giving up the almost 6in of front wheel travel, plus gave us the ability to run standard handlebars instead of the awful high rise clip ons fitted stock.  We considered the now-ubiquitous "gold upside down forks" off a GSXR or some other sportbike, and while they definitely look trick, on a bike this big, they would have been deadly.  Too short, too steep, and not enough travel.  Instead, we reworked the primitive internals, bypassing the stock damping rods and installing shimmed dampers, stiffer springs, new seals and fresh oil.  We also eliminated the fork's Anti Dive system, a 1980's fad that mercifully disappeared along with Snap Bracelets and Devo.
The dual disc brakes out front were rebuilt and upgraded with drilled CBR600 rotors, grippy EBC pads, Galfer stainless steel brake lines, and a sportbike master cylinder, so she pretty much stops like a real motorcycle despite the "for display purposes only" drum out back.
Suspension duties in the rear come from a re-valved and custom mounted CBR900 rear shock, which along with the stiff chassis and updated forks, makes the bike feel very planted and stable.
With those goodies installed and the bike sitting on two wheels again, we were able to set our suspension geometry, weld in the subframe and tank mounts, and fabricate brackets to tuck the battery, regulator, and other major electronics up under the tank.
We fitted up the Biltwell saddle and dirt bars for a comfortable, neutral riding position, and got the exhaust routed and mounted.
Then it was all stripped down again for paint and clearcoat, grease for the shaft drive and final assembly.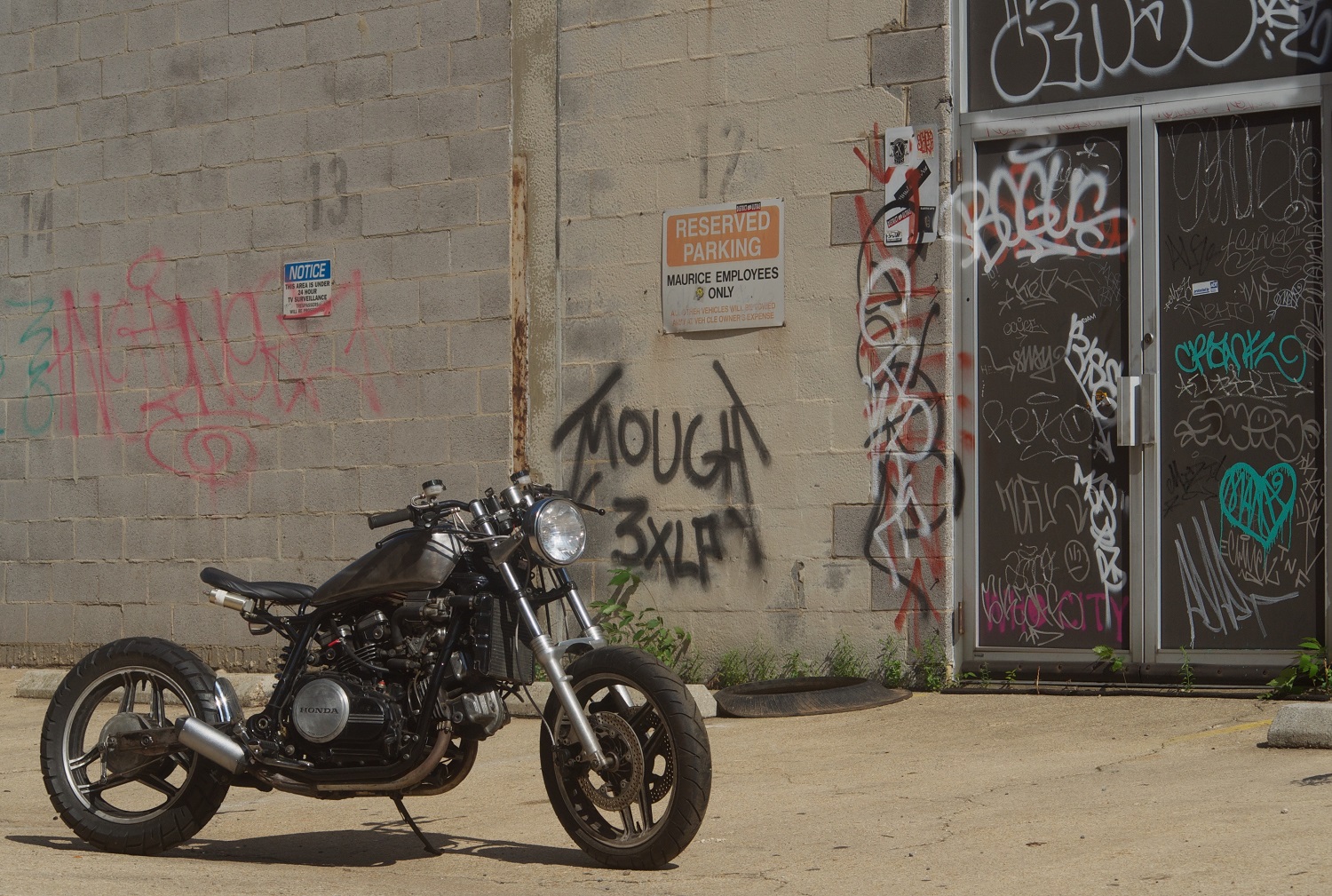 At this point, we're pretty close except for one crucial thing I haven't mentioned.
You may have noticed that nobody seems to build custom Honda Sabres, and while there may be many good reasons for that, if I had to speculate as to the main one, the one feature of this bike that is sure to drive any custom builder to the brink of madness, it would have to be the wiring harness.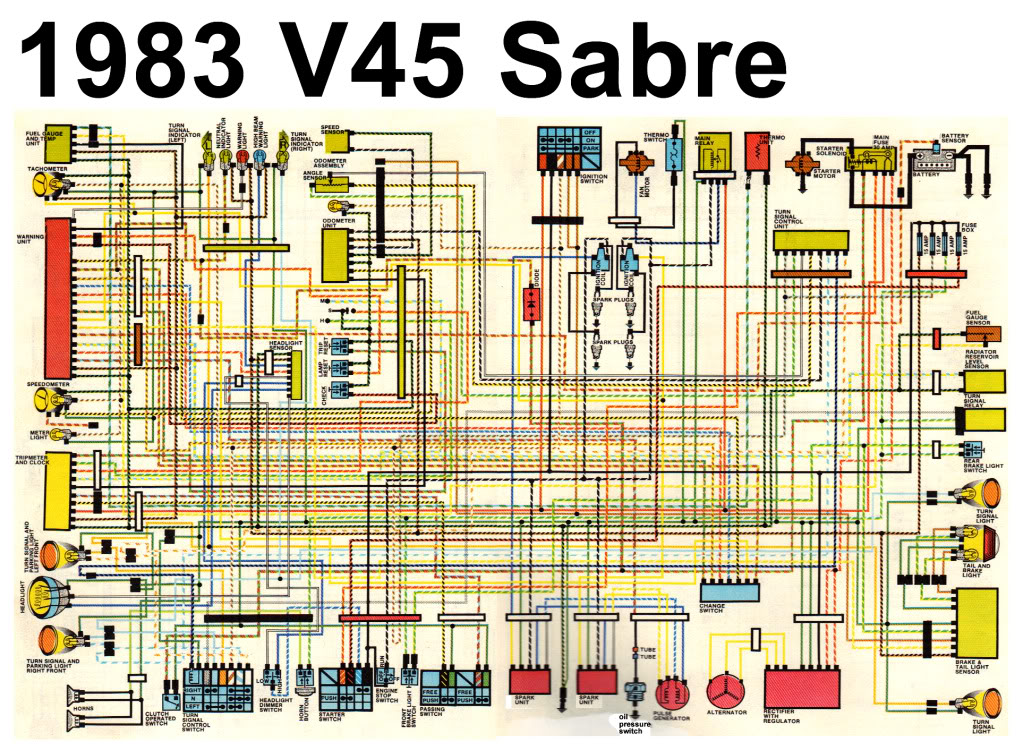 This bike had so many fucking sensors, idiot lights, dummy switches, and mysterious boxes mounted under its fairings, I probably spent three full days with the wire snips in hand sweating bullets like a goddamn bomb squad technician as I cut away everything I dared to remove except the key connectors between the ignition, battery, stator, and lights.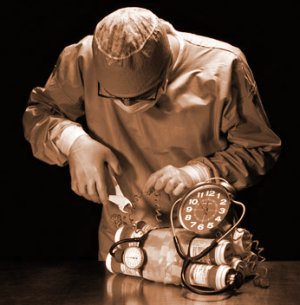 In the end, most of the harness that's on the bike is custom, but the main multipin connectors are intact.
Perhaps unsurprisingly, the the bike decided to protest the removal of 10 pounds of wire by starting up with great difficulty and only running on two cylinders. After some poking around, I determine we had no spark on the back cylinder bank.
Of course I assumed I had fucked something up, cut a red wire when I should have cut a blue or whatever, so I'm poring over the diagrams, checking my work and trying to determine whether burning the motorcycle in the alley would be considered arson ("But officer, it was self defense") when I stumble across a forum post about how a huge percentage of the early ignition boxes on Honda Sabres fail.
Aha!
So I swap the two ignition boxes and suddenly the FRONT cylinders have no spark.
Problem solved!
Except the replacement box I get off Ebay is also Dead.
I finally pay an outrageous sum of money to get my hands on working black boxes, and now the bike starts right up and pulls on all 4 like it bloody well should.
A bit more grinding and welding, some tapping and threading, and a some careful hammering and it's a fucking motorcycle.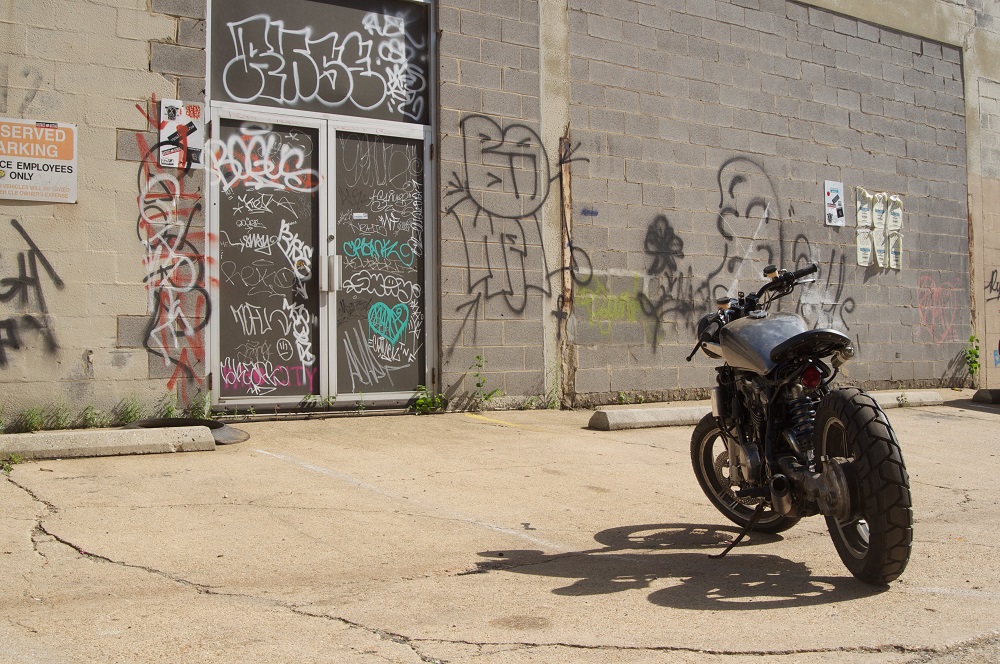 So here we are.  Bike is done and running, on display at Dunn Lewis MC for one more weekend, and looking for a new home.  Come on out for our final weekend and catch some deals on gear from Icon, Grifter, Tobacco, Reign and more.  Email clay@streetspiritcycles.com and we can talk paint and finishing touches if you want to make it yours.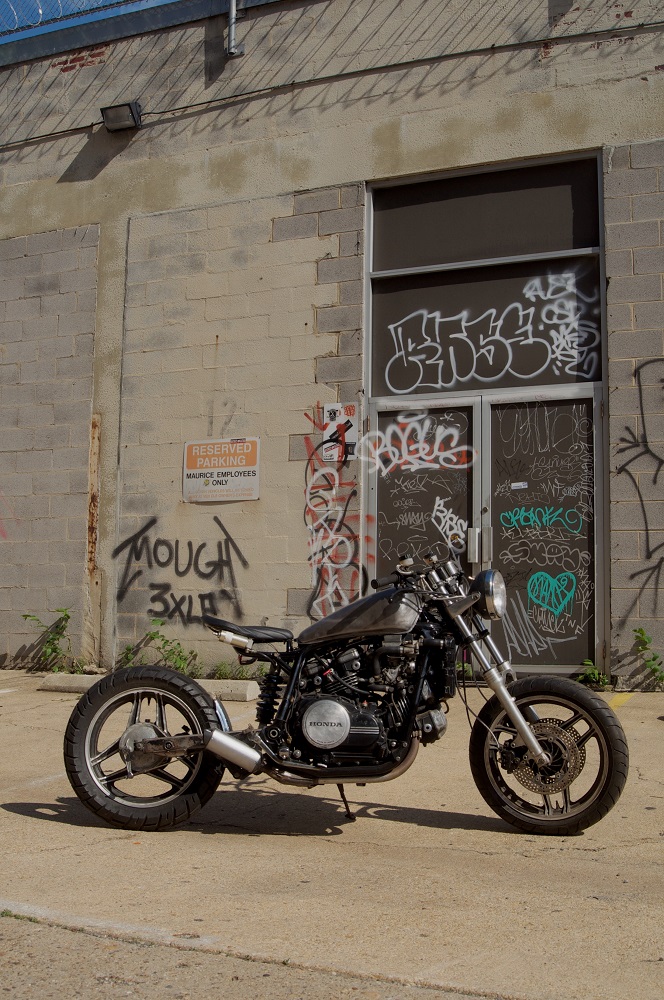 And if not – me and my V4 friend have a date with some mountain roads next month…